Why You Should Be Using a Fitness Ball for Full-Body Strengthening
by Epitomie Fitness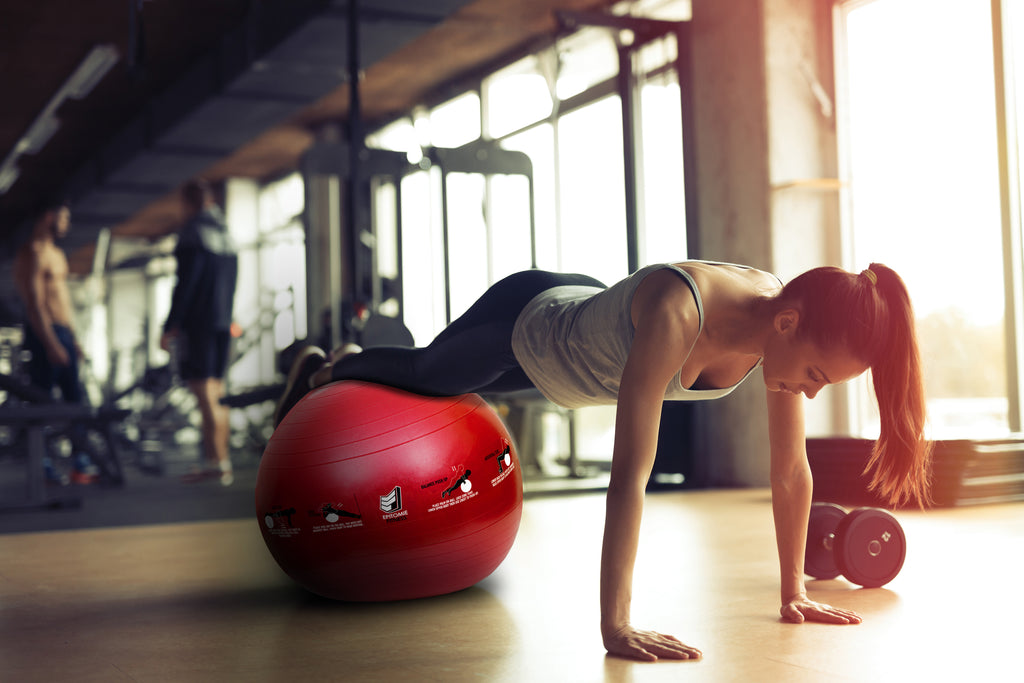 When it comes to strength training, especially at-home strength training, using a fitness ball is a great way to go. A fitness exercise ball incorporates a number of different exercises and stretches, and it has a ton of benefits to boot.
Using a fitness ball is especially great for full-body strengthening because of its versatility. One good example: you can use it in a traditional workout setting, like a workout room, or you can replace your desk chair with it to train your stabilizing muscles while you work.
Bottom line: if you can only purchase one fitness accessory, make it a fitness exercise ball.
Here's Why You Should Use a Fitness Ball for Full-Body Strengthening
1. Great For Beginners
Don't know where to start your gym or at-home workout routine? Never fear! Grab a fitness ball and get to work. The fitness ball adds intensity to just about any mat exercise to give your full-body strength training an added boost.
2. Extremely Versatile
With a stability ball, you're not locked in to any one form of exercise. It gives you the opportunity to try things out and change your mind if you're not thrilled with a particular exercise. You could try adding it to your yoga or pilates routine for an extra strengthening challenge, but the stability ball is also great for full-body conditioning, toning, and core strengthening.
3. Replace Your Desk Chair
Not only will a fitness ball at work make you feel like a kid again, you'll also strengthen your stabilizing muscles while you work! It's the best kind of sneaky workout because you won't even realize it's happening. When you try to balance on a fitness ball instead of sit in a desk chair, you're constantly making minute adjustments to strengthen and tone your core.
4. Improve Your Posture
When you strengthen and tone your whole body, the muscles in your core (abdomen, back, and glutes) become stronger. This muscular support around your spine will help you stand taller and improve your posture, which will increase confidence and decrease back pain.
5. Multitask Strengthening and Stretching
Once you're finished with your stabilizing and full-body strengthening exercises, your fitness ball can be transformed into the ultimate stretching tool. Some fantastic stretches to try are back bends, hamstring stretches, and forward bends with support.
ACTIVE BALANCE FITNESS BALL
EXERCISES PRINTED ON THE BALL - 13 of the most popular exercises for using a fitness ball are printed on the ball including core, upper body and leg stability and balance techniques. Learn how to use the exercise ball and employ proper form to get maximum results.
FITNESS & CORE WORKOUT EBOOK INCLUDED - This stability ball comes with a FREE eBook titled "Strong Body & Strong Core".
Build Full Body Strength and Cultivate More Stability and Balance With a Fitness Ball
Want to experience the amazing benefits of a fitness exercise ball?
Watch these workout videos to learn how to use a fitness ball for a full-body and six-pack core workout.
Epitomie Fitness instructor Amanda Russell coaches you through a full body workout
Full Body Workout using Exercise Ball | Balance Ball Training with Amanda Russell
5 Tips to Successfully Use Your Fitness Ball
As always, we want to be safe and avoid injury whenever we work out. We also want to be successful and see results!
Here are 5 tips to help you get the most out of your stability ball.
1. Being uncomfortable in your workout is great, but if you ever feel something is painful, stop. Try decreasing the intensity or trying the exercise another day.
2. Because the fitness ball will often introduce a balance challenge, practice near a wall, chair, or other prop that you can use to quickly catch yourself if you need to.
3. Bouncing around on your ball can be pretty fun, but be careful not to pop it!
4. Many exercises with a fitness ball can be performed with or without shoes. If you never workout without shoes, you should definitely try freeing your toes.
5. In most exercises, think about "stacking" your bones to stay in alignment and prevent injury. For example, if you're in a lunge, your knee stacks over your ankle to create a 90 degree angle in your knee.