Sonic Boom M2 High Speed Jump Rope
SUPER SONIC SPEED – Prepare to crush it like never before with the NEW and improved Epitomie Fitness Sonic Boom M2 workout jump rope for serious athletes! Designed to be FASTER than ever, so you can make better progress, train harder, and break your goals in record time.
KILL IT QUALITY – Premium grade, 360-degree ball bearings? Check! Silicone, anti-slip grips? Done! Awesome extras? You got it! We designed the Sonic Boom M2 to be the best Crossfit jump rope from top to bottom, and them some. Get smooth spinning, super fast rotation in your rpm jump rope, a FREE carrying case, and a FREE online training course (sells for $15.97) to unleash your inner speed demon.
What Customers Say About the Sonic Boom M2?
The Benefits When Using A Sonic Speed Rope?
STEP IT UP TO MASTER LEVEL - With awesome superfast cable speed and 100% tangle-free spinning, the Sonic Boom M2 will nail double unders so you can't fail. Whether you're warming up, or want a lightning fast workout, this ultra-responsive jump rope will make you rock like a gym ninja!
DON'T SCREW IT UP – Sick of loose screws that fall out just as you're getting your groove? It's time to meet the FIRST, patent-pending, self-locking, screw-free jump ropes for men and women! Whether you're perfecting your double unders or warming up for a workout, the Sonic Boom M2 RPM jump rope helps you get sick speed, without screws screwing it up!
CUSTOMIZABLE CABLES – When you're after speed, you need a jumping rope that fits you to a T. The Sonic Boom M2 comes with 2 adjustable, 10ft polymer-coated speed cables; so you can get the exact length you need for the gains you want!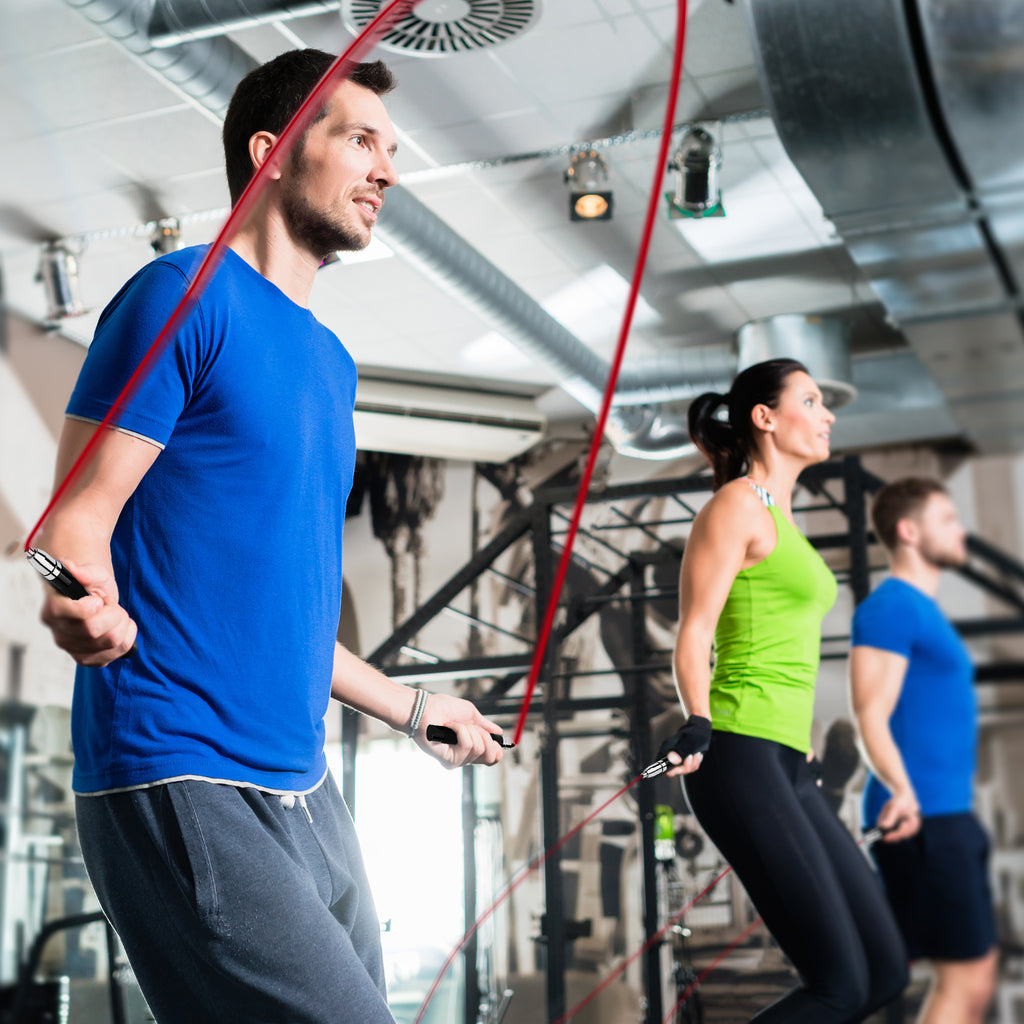 Welcome to the SONIC SPEED upgrade
The incredible Sonic Boom high-speed jump rope just raised its game, so it can raise yours. Welcome to the upgrade! Ferociously fast so you can score serious speed. Blast past your personal bests and push your limits.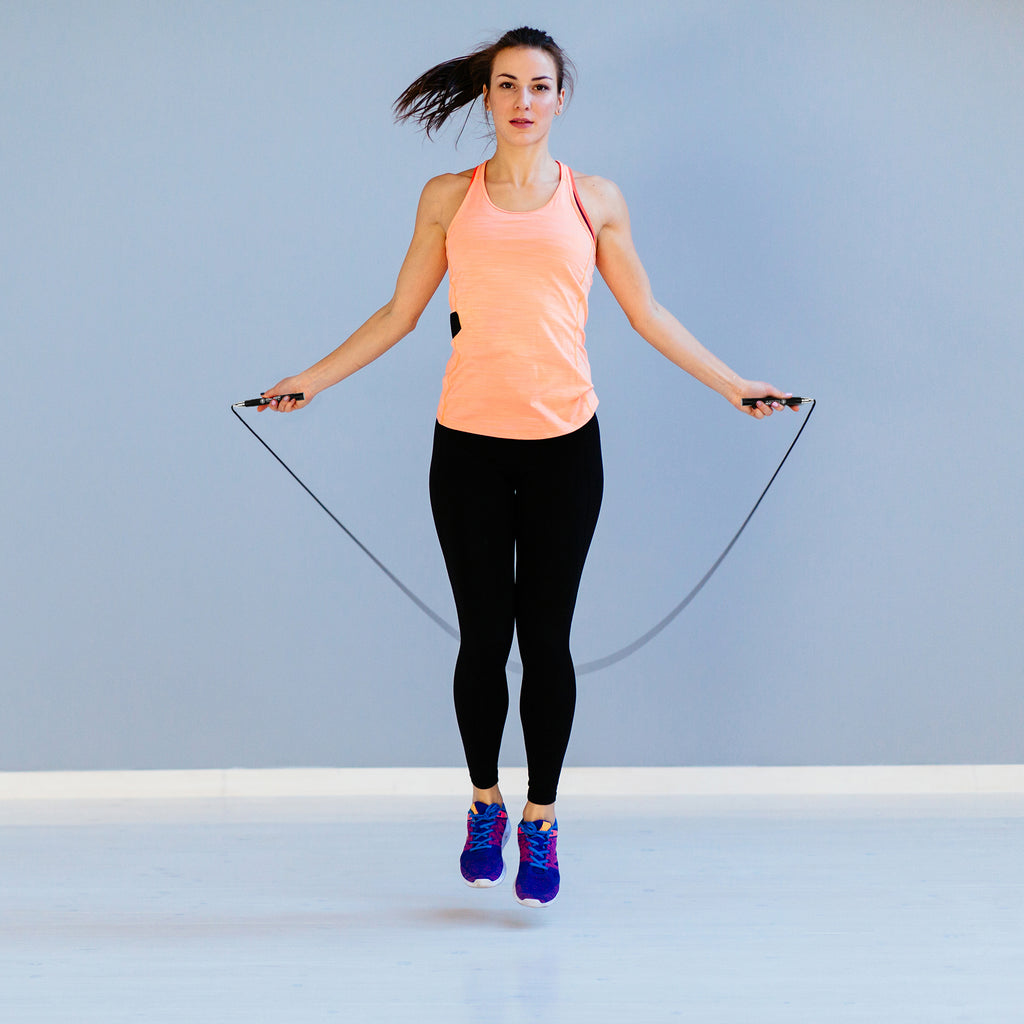 Don't compromise, be your personal best
Get a full-body boost. Make major progress on your fitness journey with the Sonic Boom M2. Increase your cardio capacity, balance, agility, speed, coordination, conditioning, and endurance for a full-body and mind workout from anywhere!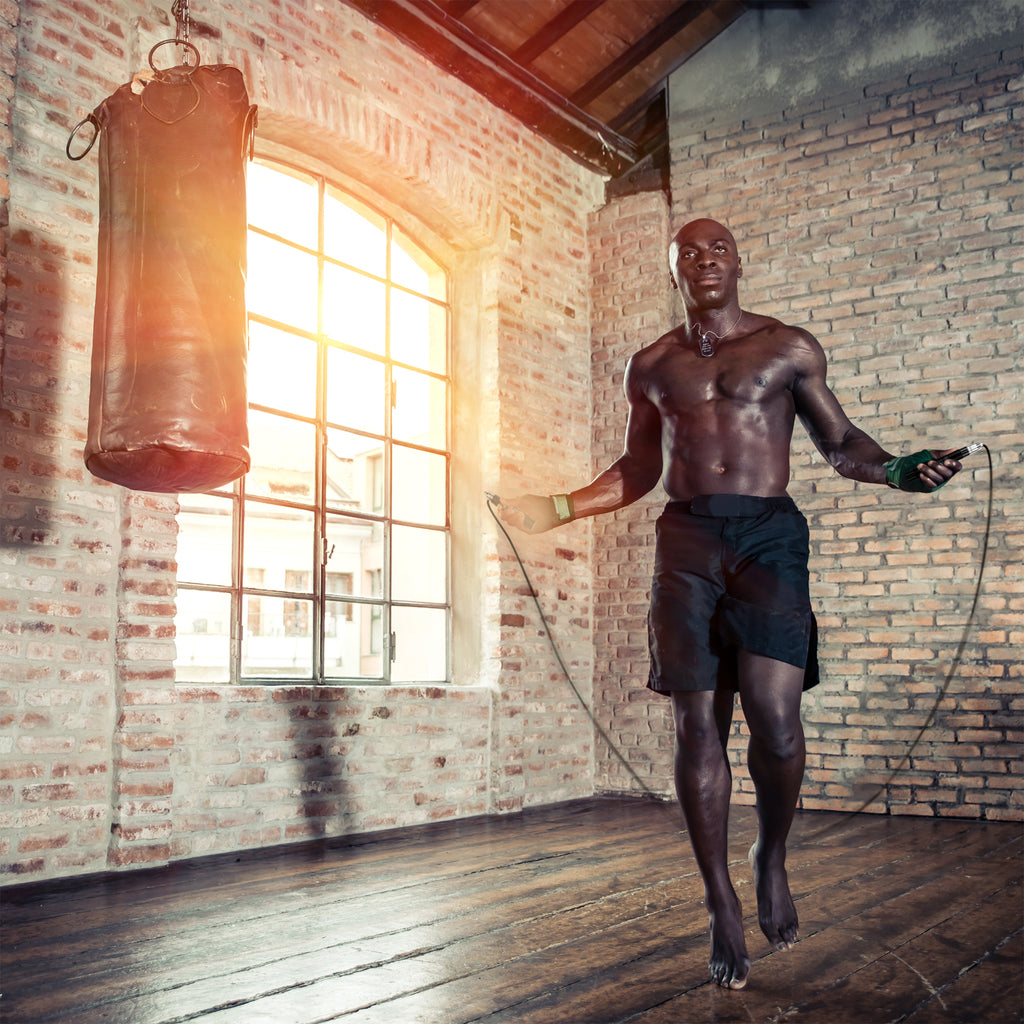 Really sweet, to sweep you off your feet
If you're a crossfitter, boxer or out there shredding at the gym, here's what's gonna make you rock! No-rust stainless-steel metal an auto-locking requires no screws. Superfast spinning to nail those tricks. Easy adjustment to customize rope length.
Our Promise Backed With A Lifetime Guarantee
OUR PROMISE – Hit every workout hard for life when you warm up and boost your cardio with the Sonic Boom M2! It comes with a lifetime guarantee, ensuring that every training session is your best one yet.
SUPER-FAST & ULTRA-SMOOTH - 360 Spin Ball Bearing System With Near Frictionless Rotation for Real-Low Wear & Tear
SCREW-FREE SELF-LOCKING - No Pre-Cutting to Size, Auto-Locks for Fast Customization Stores Excess Rope in Handles
BONUS BUNDLE ALERT - Comes with 2 x 10 ft cables, handy carry case, luxury gift box, and a FREE 2.5 hour "Jump Rope Mastery" online video course (retailing at $15.97)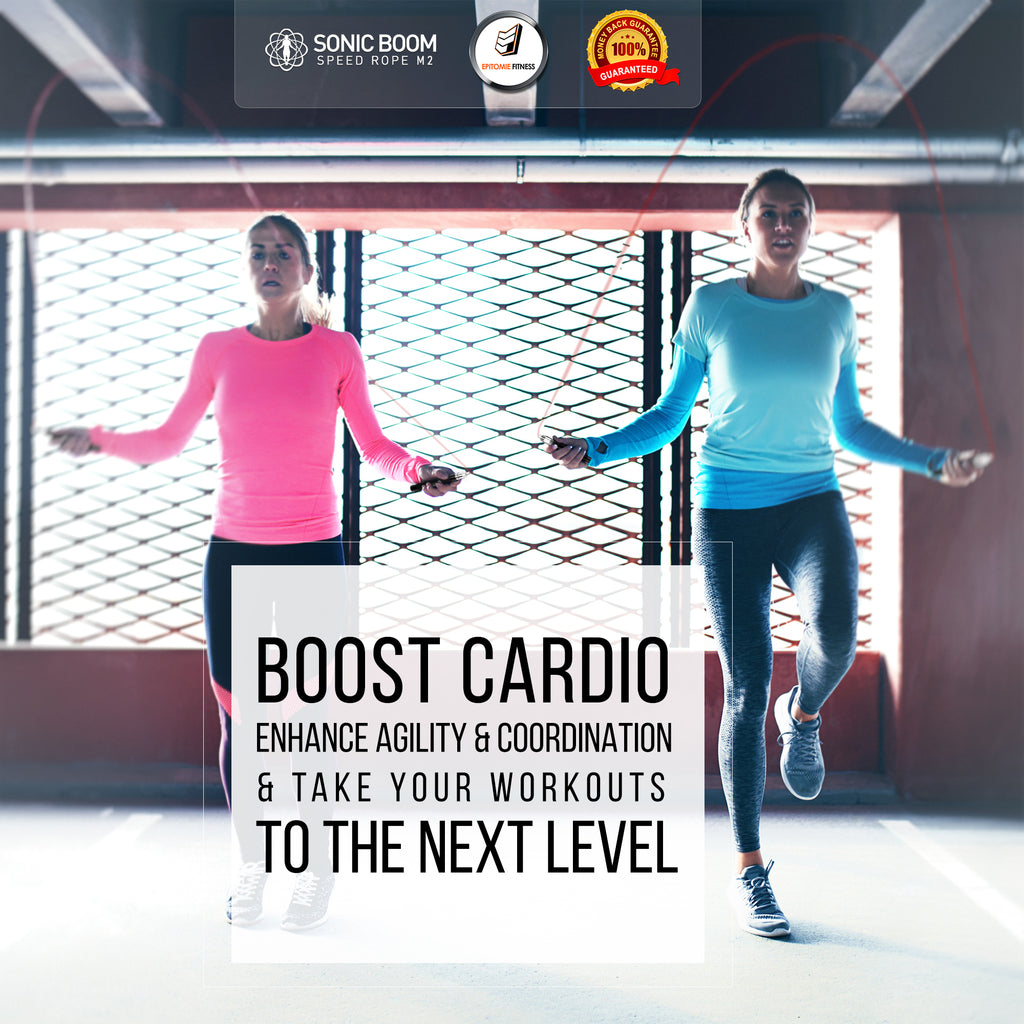 Choose Your Package – With or Without Neoprene Hard Case
Carbon Black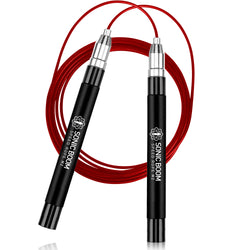 Black With Hard Carry Case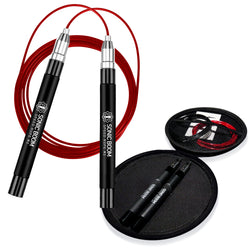 Expert Opinions On Superior Features
"Quick adjustment ability is superb and superior to the previous ropes I've used"
Adam
"If you want to practice fancy tricks like double-unders this is the rope for you"
Afsaneh
"Light and fast. The steel construction and ball bearings make it extreme"
Paris
Perfect for:
Boost Cardio
Better Balance
Enhance Agility
Increase Speed
Increase flexibility
Improve Coordination
Improve Conditioning
Develop Muscular Endurance
Perfect for Home Workouts
For athletes and fitness trainers
Ideal for CrossFit, Hiit & RPM
Perfect for gyms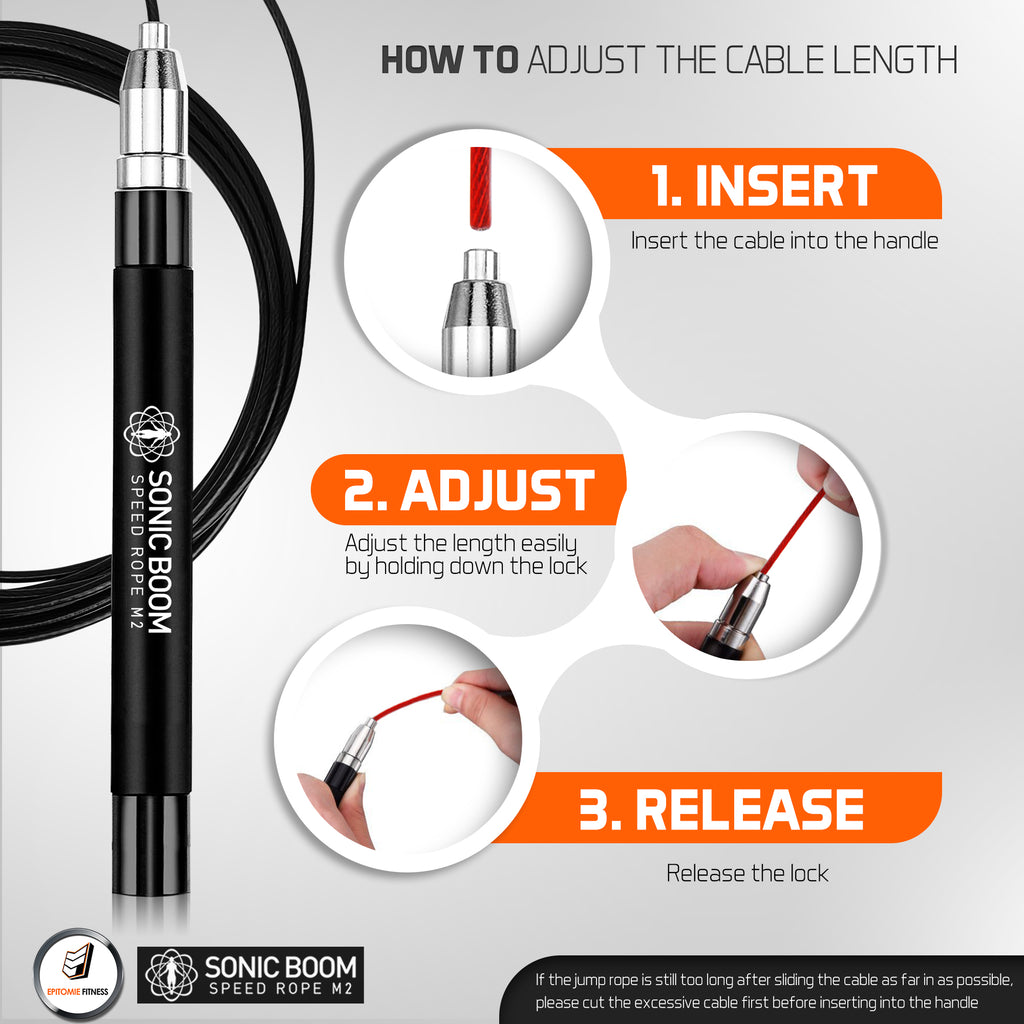 Frequently Asked Questions About the Sonic Boom M2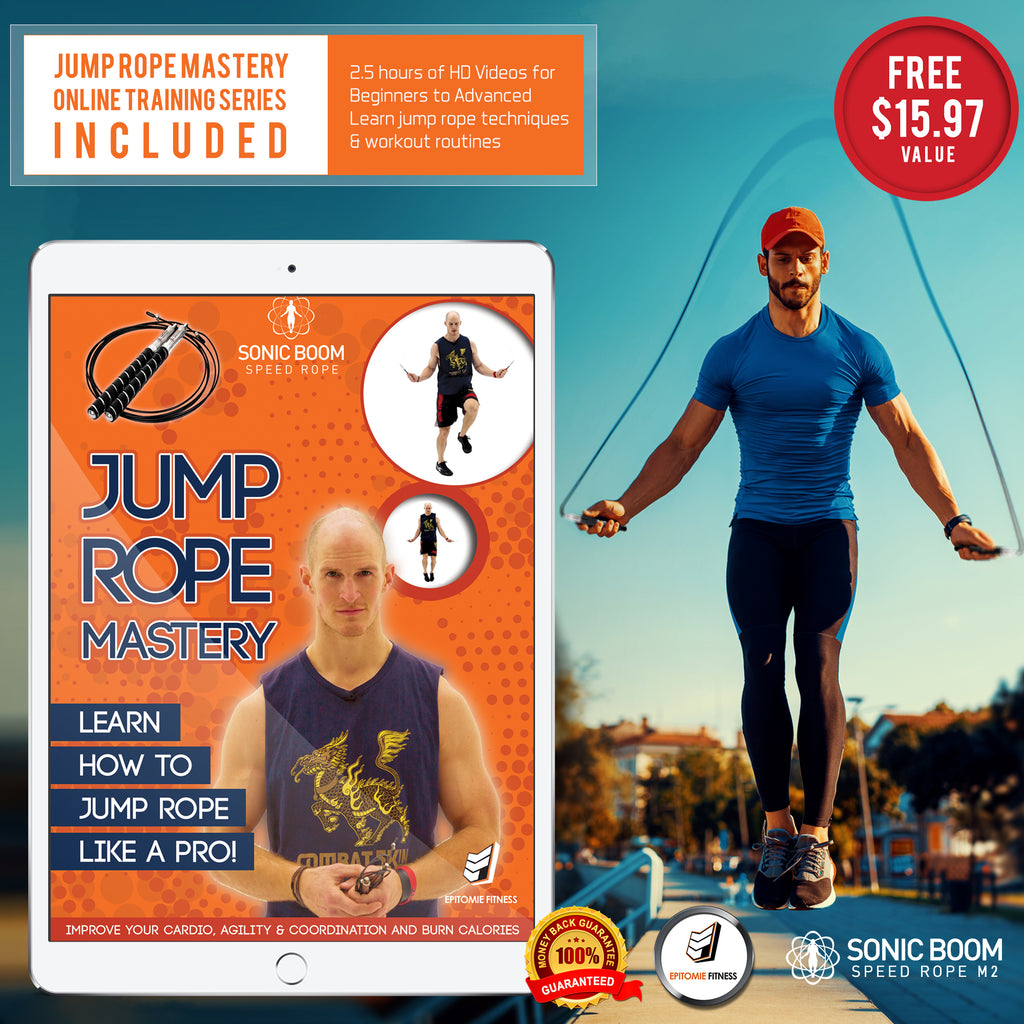 1. How do I learn how to use the Sonic Boom M2?
Every Sonic Boom package comes with our online training program "Jump Rope Mastery" taught by trainer Dan Sigafoos. Learn how to jump rope like a pro.
2. How does the Sonic Boom M2 come packaged?
The Sonic Boom M2 comes with it's own travel bag for portability so you can take it everywhere with you. It also comes in a high quality color box for protection and gifting.
3. How many cables comes with the Sonic Boom M2?
The Sonic Boom M2 comes with 2 super fast speed cables made of stainless steel coated with an industrial polymer for low friction through the air and therefore super-fast rotations.
4. What is the size of the Sonic Boom M2 and how much does it weigh?
The handles on the Sonic Boom M2 are 6.5 inches in length and approx. 0.5 inches in diameter. It weighs approximately 0.59 lbs (265gms) when fully packaged in carry case and box.
5. Do you have a warranty?
Every Sonic Boom M2 is backed by a lifetime guarantee. If it ever breaks on you, we will replace it. If you are not satisfied, you can return it. But we know you will become a raving fan like all our customers.
Invest In Your Body & Fitness By Trusting Epitomie Fitness
Double unders? No problems! Time to get the Sonic Boom M2!